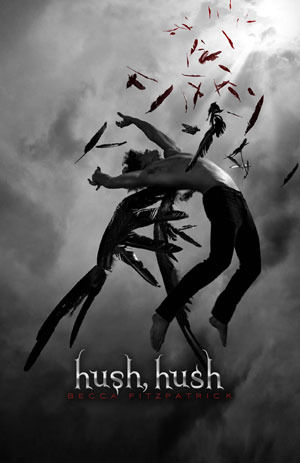 Hush Hush(Hush, Hush #1)
by
Becca Fitzpatrick
Genre:
Young-adult, Paranormal, Angels, Romance

A SACRED OATH
A FALLEN ANGEL
A FORBIDDEN LOVE
Romance was not part of Nora Grey's plan. She's never been particularly attracted to the boys at her school, no matter how hard her best friend, Vee, pushes them at her. Not until Patch comes along. With his easy smile and eyes that seem to see inside her, Patch draws Nora to him against her better judgment.
But after a series of terrifying encounters, Nora's not sure whom to trust. Patch seems to be everywhere she is and seems to know more about her than her closest friends. She can't decide whether she should fall into his arms or run and hide. And when she tries to seek some answers, she finds herself near a truth that is way more unsettling than anything Patch makes her feel.
For she is right in the middle of an ancient battle between the immortal and those that have fallen - and, when it comes to choosing sides, the wrong choice will cost Nora her life.


I really really thought I would love this book. I wasn't expecting too much from this after reading Fallen series which I DNF'ed after painfully pushing myself to atleast finished reading the first book, but I was hoping that it would be pretty decent seeing its high rating than fallen, and also, a lot of my friends here in goodreads have liked it...
Maybe it's not the book.. maybe it's me.. Maybe this isn't just my cup of tea, but I've always love YA paranormal angel books, you know,
Angelfall
,
Unearthly
,
Daughter of Smoke & Bone
?
fallen
and
hush hush
were waaaay tooo far away from the awesomeness of those book. So if you've read those book before this...
This is the story of Nora, just an average highschool girl, whose life was change when their biology teacher thought of changing seats. She then gain a new seat mate named Patch. After meeting him, her life has been thrown into abnormality and chaos. Her life suddenly is in danger, turns out she's not that average at all...
Characters:
The worst thing in this book.
Nora.
I really hate her in an intense way! She's like acting all innocent but get all flirty with Patch every opportunity she gets! What I really can't stand is a stupid, selfish and ignorant heroine!
Patch.
I have mixed feelings for him. He's creepy alright, more like a stalker, not in a sweet way but in a.. well creepy way. But he also have his own brilliant moments:
"Thinking?"
"A process by which I use my brain to make rational decision"
Vee.
She was alright... At first. But I started hating her when she was attacked, and it's like nothing happened. She just brush it off, and continued dating. She was so into dating, it was like it's the first time having a boy taken interest on her, she's so desperate, no wonder she was friends with Nora.
**Rolls eyes**
Romance.
I dont hate
Instalove, love triangles or any YA cliche's,
if anything I look forward to it, because I believe that the outcome,
if it's believable or not
will depends on the author's way of writing. So this wasn't one of the reason why I was disappointed on this book.In fact this is more like,
InstaLUST!
I can't even feel any romance brewing between the two of them. Sorry, no ship for this fandom.
Story.
What I just didn't like much is the fact that everyone seems to be a villain or the bad guy! though I like the action and mystery on some part of the book that's why it earned 2 stars from me, but still isn't enough for to convince me to pick up the next book..

Book Links:
Becca Fitzpatrick grew up reading Nancy Drew and Trixie Belden with a flashlight under the covers. She graduated college with a degree in health, which she promptly abandoned for storytelling. When not writing, she's most likely prowling sale racks for reject shoes, running, or watching crime dramas on TV. She is the author of the bestselling HUSH, HUSH Saga. Her new book BLACK ICE arrives in bookstores everywhere October 7, 2014.
Author Links:


Website|Goodreads|Twitter|Facebook