Hello Everyone!
I'am so glad to announce that I have managed to interview one of the coolest author I've ever known- C.L Denault - Author of one of the best Dystopian book I read this year, Gambit(The Prodigy Chronicles #1)! Check out my full review of this awesome book
here
.
I hope you guys will enjoy this interview, get to know the Characters I learned to love and her debut novel, Gambit a little better!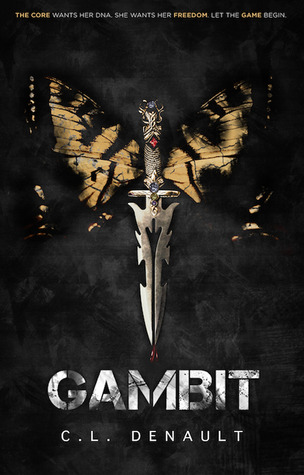 Gambit (The Prodigy Chronicles #1)
by
C.L Denault
Genre:
Young-adult, Dystopian, Romance

In Earth's battle-ridden future, humans have evolved. Those with extraordinary skills rise to power and fame. Those without live in poverty.
Sixteen-year-old Willow Kent believed she was normal. But when a genetically-advanced military officer shows up in her village and questions her identity, long-buried secrets begin to emerge. With remarkable skills and a shocking genetic code the Core and its enemies will do anything to obtain, Willow suddenly finds the freedom she craves slipping through her fingers. Greed, corruption, and genetic tampering threaten every aspect of her existence as she's thrust, unwilling, into the sophisticated culture of the elite Core city. To ensure peace, she must leave the past behind, marry a man she's never met, and submit to the authority of a relentless officer with a hidden agenda of his own.
Her life has become a dangerous game. How much will she sacrifice in order to win?
Book Links:
Writing and blogging are two of her passions, along with drinking coffee and watching sci-fi and horror flicks. When she's not hanging out with her family, she can usually be found at a library or tucked away in the shadowy corner of a hip coffeehouse. She's also been glimpsed sneaking into her garage, late at night, to work on her time machine.
She enjoys connecting with people (especially those from other planets, dimensions, and the future). To find her, just visit her
website
or The
INFJ Café
. Or use a Stargate. Whichever is easiest.
Hello Cary!
First of all, would you kindly tell us something about yourself? Do you somehow have special, awesome abilities like Willow Kent? :D
Let me start by thanking you for having me! I'm so happy to be on your blog today! Me, I'm pretty much an average American mom with a lot of wild ideas running around in my brain. They never leave me alone, so I started writing and blogging to get them out of my head.
Special abilities? Well, I do have a strong sense of intuition. It's part of being an INFJ personality type. I get occasional premonitions, and I've even had dreams that later came true. So I gave that ability to Fenn and Willow, because it's so personal to me. Still keeping my fingers crossed for telekinesis, though. :)
Just wondering, this is your Debut Novel right? How did you come up with wonderful and really intriguing "Earth's battle-ridden future", where people had been genetically altered?
Well, I've always been fascinated by people with superpowers. Even as a little girl, I ran around my back yard pretending to be Wonder Woman! I also loved science fiction and eventually became a huge fan of the X-Men. But it wasn't until I started watching a television series called "Alphas" that the idea for Gambit hit me. It was actually a set of ideas that all converged inside my head at once. I pictured a future Earth where "normals" and "prodigies" had gone to war, with prodigies eventually winning and taking over. Gambit takes place in the aftermath of that destruction and focuses on Willow, whose DNA happens to be incredibly unique.
What was the most challenging part of writing Gambit?
You know, writing the first draft of Gambit didn't feel like a challenge at all. I was so consumed by the story that I couldn't get it out of my mind. When I wasn't working on it, I was living and breathing it in my imagination. Revising it was the real challenge. With help from my editor, Kisa Whipkey, I went over the manuscript several times and made a lot of improvements. Learning how to revise—to mold and then fine-tune Gambit into the story it is today—was definitely the hardest part.
Have you based Willow, Reece and Aspen to people you personally knew? (and Yes, I'm totally biased there, I only ask for my favorite characters.) LOL
That's okay—I love them, too! And they are mostly based on my imagination, because I don't know anyone in real life who resembles them. They are the kind of people I wish I knew. That's what made them so much fun to create.
If your answer is yes in the above question, will you please introduce me to them? or Maybe to the person you based Reece? JK. (Really, This is totally random, please proceed to the next question :) )
(haha, if I ever come across an actual Reece, you'll be the first to know)
Do you already have the title set for the sequel of Gambit, and what can we expect on it, without spoilers :) ?
I haven't quite decided on the title of the sequel, because I'm waiting to see how it all comes together (keeping things open to inspiration makes it easier for me to write). But you can expect to meet a few new characters, learn more about how the prodigies came into power, find out what the Council thinks of Kane's treason, and watch Willow suffer the consequences of her first "bold" move.
When do you think we can expect the publication or even news about the sequel? I know I'm not the only one who's waiting for it! :)
I'm so glad people are anticipating the sequel! Rest assured that I'm working on it. My life got a little crazy a few months ago, and several family issues have been demanding my attention. But those are winding down, and I'm looking forward to shifting all my focus on creating more of Earth's battle-ridden future. I'll let you know as soon as I have something official!
If you would like to share a few personal words with the readers, do so below. :)
I'd love to! So in my house, there's a bookshelf that holds all my favorite novels. One of them is Practical Magic by Alice Hoffman. Her writing is beautiful and poignant, and the very last line of the book is this: "Fall in love whenever you can." I try to do that every day. With a moment, or a thought, or a compelling line in a wonderful book. Life is fleeting, but a brimming heart lasts an eternity. So my hope is that you, too, will fall in love whenever you can.
Random, quick questions:
YA or NA –
Depends on the day.
Werewolves or Vampires
- Werewolves, because they enjoy life in dual states.
Invisibility or Telekinesis
– Definitely telekinesis!!
Contemporary or Fantasy
– Fantasy.
Paperback or hard cover
- Hardcovers all the way.
Jogging pants or skirt?
– I'd freeze in a skirt. Gimme pants.
Badboy type or goodboy?
– A mix. Tim McGraw sings, "I may be a real bad boy, but baby, I'm a real good man." Nothing is sexier than that.
Juice or Coffee
- COFFEEEEEEEEEEE
Reece or Aspen? (I'm still not giving this up LOL)
– Love them both, but Reece is my fantasy man. :)
Thanks again, Donita! Take care and much love to you!!
I would like to thank Ms. Cary for letting me interview her on my humble blog! :)
Interview by
My Random Book Thoughts