Hi Guys! I managed to interview the Author of
Just a few Inches
(Click the link for the review ;) ),
Tara St. Pierre
! Read below to know more information about this incredible author and how she come up with this amazeballs and unique novel and to also get the chance to win an
E-book copy of Just a Few Inches!
:)

Tara St. Pierre has been writing for over two decades, but her muse only sporadically provides inspiration. Her laptop is filled with incomplete manuscripts and other plot outlines, and she feels blessed when one finally pushes its way through to completion--no matter how long it takes!
She enjoys classic science fiction movies and television shows. When driving, she sings along with the radio loudly and off key. She prefers tea over coffee, spring over autumn, vanilla ice cream over chocolate, and caramel over hot fudge. Though she lives by herself, one of her two cats enjoys cuddling with her.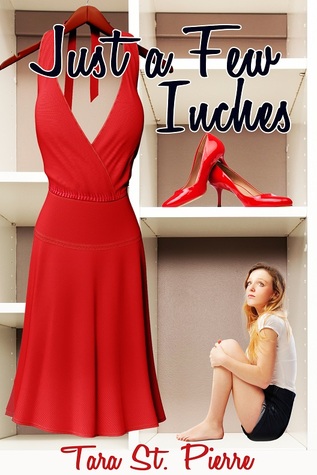 by
Tara St. Pierre
Genre:
Young-adult, Fantasy, Romance, Contemporary

All Carrie Roberts wants is to be a little bit smaller.
To fit into the perfect dress for the Valentine's Day Dance. To look beautiful for her boyfriend, the school's star basketball player. To keep his jealous ex-girlfriend, a rival cheerleader, away from him. And to be noticed by her classmates.
Exercising and dieting don't work, but an advertisement for weight loss pills promises a quicker solution to her problem. As time runs out, she takes more than the recommended dose until she's just a few inches slimmer. Heads turn when she arrives at the dance, and the wonderful night with her boyfriend is beyond what she dreamed it would be.
Days later, Carrie discovers that her body is changing in ways that should be impossible. While her doctor searches for a cure, she desperately turns to her friends and family for support. Everyone is noticing her now whether she likes it or not, and even the media is intrigued by her incredible story. Getting everything she once wanted has created new problems—problems that are growing more terrifying every day.
Because Carrie Roberts is shrinking.
Hello Tara!
First of all, would you kindly tell us something about yourself? Are you a lot like Carrie? Eg. Athletic, cheerleader etc.? Because that would be cool! Not that you're not cool now because you are, err, sorry got carried away.
I'm not particularly athletic, and I wasn't a cheerleader. I had to do some research into certain cheerleading terms to make that aspect of her personality believable! But she's that way because I felt it was important for the story for her to be in a somewhat high-profile role in her school and to give her a believable reason to have a rival such as Janelle.
I'm more into the arts, particularly writing. Where I inserted more of my own personality into Carrie's is in her other extracurricular activity: editor for the school newspaper. I get bothered by some of the grammar, spelling, and word choice issues (there, their, they're) that frustrate her also!
No matter what, I've come to learn that I'm cool in my own way. And you are too, Donita! Maybe that comes with age and experience, but I'm very content with who I am on the inside, and I feel blessed to have the creative gifts I have.
Now, please tell us how did you come up with the idea of this wonderful story?
I was in the checkout line at a supermarket or drugstore, staring at the magazines—many of them targeted at women. One cover offered a diet program to lose inches from your waist and shrink your dress size. The usage of the word shrink in that context intrigued me. There had been other movies or TV shows where people shrunk, but none that I knew of due to a diet. I thought this was an interesting premise for a story.
I chose a high school setting because teens are always trying to fit in, so Carrie's insecurities would be believable. Also, by having her shrink in height, I hoped readers would be more intrigued because it was something new, and I could make it about body image in general instead of just weight issues.
With Carrie shrinking in height, it allowed me to posit some interesting questions in a unique way. For example, there are claims that the unreal measurements of fashion dolls may be one reason why young girls have body image issues. I don't know if that's true, but when Carrie is that size, she'd have a different perspective and I could posit the question. In the end, if readers of my book learn something from it, then I've done my job.
Have you ever dealt with the same issues that Carrie experienced herself? (Not the shrinking part obviously, but the body and beauty issue) :)
I think we all have, at least to some extent, at various times in our lives, especially in high school. Whether it be a weight concern, or having the right hairstyle, or wearing the right clothes, or even a pimple in a prominent location of your face, everyone can relate. Any sometimes, it makes us metaphorically shrink away to avoid being seen. Fortunately, I'm at a point in my adulthood where I'm content with who I am and what I look like. But even still, sometimes that little insecure voice comes through about something.
Have you based Carrie and some of your characters to the people you personally knew?
It's hard not to write about people I personally know or knew! We all probably know or knew someone like the snobby, fashion-conscious bully Janelle. We all probably know someone really smart and shy like Evan—and he's somewhat based on my mathematical side. I have younger siblings, so I understand those relationships, and that may have spilled into Carrie's stepsister Amy and half-sister Kylie.
But with Carrie, I tried to make her an "everyperson" such that hopefully all readers would connect to her. Though I infused her with some of my own personality traits, she's not based on anyone in particular.
Tell us what kind of preparations you made for this story. Have you made scientific research, etc.?
I could probably write a book about all the preparations and research that went into the story! I have a little more than a basic knowledge of biology and chemistry, so that helped in making the explanation Carrie's doctor gives about why she's shrinking at least sound believable. I did some research into how diet pills work on a biochemical level. There were actually more scenes between Carrie and her doctor and many more between Carrie's family and the pharmaceutical company. They didn't test well with my advanced readers, so they were removed. All for the better because it shrunk the length of the book and kept the focus on Carrie and her friends and family, which all the readers loved.
But most of the preparations for this story came in taking tons of measurements of anything and everything I could find! Such as: the height of the average doorknob, of a high school locker shelf, of high school desks, of a bed, of a smartphone—everything Carrie interacts with in the story was carefully measured to determine when they would transition from inconvenient to use, to difficult to use, and to impossible to use. The same measurements were made about a variety of clothing: adult to young teen to pre-teen to toddler, infant, and a variety of dolls.
I found typical growth charts for females so I had an idea what the average height for a girl at every age up to 18 years old so I'd have a frame of reference for her height in comparison to other characters, particularly her sisters. Also, since Carrie shrinks proportionally, I learned that she wouldn't look like a toddler when she was toddler-sized. Teens and toddlers are built very differently, so toddler and infant clothes would be baggy on her even if they were the right length for her. Thus, I had to keep track of how her shrinking progressed (lots of math) to find a time when she could go to the prom in a somewhat nice dress.
Do dolls creep you out? Because when I read the part about Emma, I can't help but think it's going to move and bully Carrie, ugh!
Dolls don't really creep me out, but I can imagine why you might imagine Emma moving and bullying Carrie. After all, Carrie gets tormented by a few people throughout the story. When Carrie is about Emma's height (just under two feet tall), I think Carrie looks at her as trustworthy—someone to share clothes with. But there's a scene when Carrie is eight inches tall and she walks by Emma—who would appear giant-sized at that point—and I hope it's my writing at that moment that made you imagine her move!
If Just a few inches get adapted as a movie (crossing fingers!) Who would you like to cast? :)


That's such a surreal question to ponder! Naturally, I'd love to see it as a movie, so I'll keep my fingers crossed too. I don't know enough current "teen" actresses to have a preference, but a few years ago, I definitely would have loved to see Jennifer Lawrence as Carrie.
Do you have plans working on a new novel now that Just A few inches is done?
I've started writing something. I write and revise slowly, so I don't know when I'll be done with it, but I like the first chapter and the narrator's voice. I'm exploring something very different in this book, about as far away from Just a Few Inches as I can imagine. My narrator is a teenage boy for one thing. In the first chapter, he's with his best friend and using a pizza as an example to rant about the concept of infinity. Going from the really small to the really big, I guess.
If you would like to share a few personal words with the readers, do so below. :)
Just really to accept the things you can't change about yourself. Sure, we have to take good care of ourselves, but our outside is like a candy wrapper. All the really sweet stuff is inside. We shouldn't be judged by numbers on a scale.
Random, quick questions:
YA or NA –
Definitely YA, and not just because I write it. Young Adults are trying to find their voice and independence, and it's expected that they make mistakes along the way since they're not fully formed. If the YA book has a good message, then the reader learns along with the character
Werewolves or Vampires
- Werewolves. There's something really fascinating to me about uncontrollably transforming and losing humanity along the way.
Telekinesis or Telepathy
– Telekinesis, if for no other reason than so I could get a fresh can of soda or snack without having to get up while I'm writing! Besides, I think I'd feel weird hearing other people's private thoughts.
Contemporary or Fantasy
– A mixture of both, actually. I like stories that are set in contemporary times to make them instantly relatable, but with a dash of fantasy to make it more gripping, especially if it's a good "What if…?" scenario. I guess that genre is called "Magical Realism." That's what I tried to do with Just a Few Inches—I wrote the kind of book I like to read!
Paperback or hard cover
- Paperback, hard cover, eBook—I'm not picky, as long as the story is good!
Jogging pants or skirt?
– Skirt. I'm not particularly athletic, so I don't jog. But besides that, there's more variety with skirts, allowing for more self-expression. They can be formal, playful, or anywhere in between. The length and style of the skirt, along with being accentuated by colored/patterned tights or traditional nylons or bare legs can display a mood or tone.
Badboy type or goodboy?
– Goodboys. A badboy is definitely fun to read about, but I look for loyalty, trust, and support above everything else
Juice or Coffee
- I love the smell of coffee, but I don't like the taste, so of this pair, I'm going with juice. But the real answer is Tea. ;-)
Again, Thank you so much! :)
You're very welcome, and thank you for having me here and reading, reviewing, and promoting my book!
Giveaway:
5x E-book copies of Just a Few Inches

a Rafflecopter giveaway

Interview by
My Random Book Thoughts